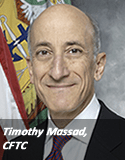 The US Commodity Futures Trading Commission (CFTC) is considering raising margin levels for derivatives traded outside of clearing houses, the head of the agency has said.
Timothy Massad, chairman of the CFTC, said the US will have to harmonise its rules on margin levels following discussions with European and Japanese regulators. 
"I am willing to consider some changes to our proposed rule in order to ensure greater consistency," he said. 
"The threshold for when margin is required is currently lower in our proposed rule than in the proposals in Europe and Japan, and I believe we should harmonise those even if it means increasing ours."
Massad claimed a decision on raising margin levels could be finalised by the summer of this year, and will incorporate a delay in the implementation of the rules.
A decision to raise the amount of collateral needed for uncleared derivatives could be vital for agreements on the recognition of US clearing houses by European regulators.
Speaking at an industry conference in December 2014, a senior member of the European Commission criticised the lower margin levels in the US, deeming it "anti-competitive" against Europe.
Initial margin requirements are expected to be finalised in April, and then rolled out in December 2015 under a phased approach until the final wave is captured in 2019.