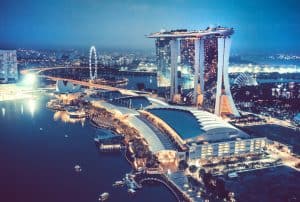 US hedge fund Citadel and market maker Citadel Securities will open a new office in Singapore as part of a move to further expand into Asia Pacific.
Alongside the new Singapore office, both firms will continue to expand in Hong Kong, with Citadel Securities also increasing its existing presence in Singapore and Sydney.
The new office, which is due to open later this year, will be the firms' seventeenth location globally, including its several locations across Europe, North America, and Asia Pacific.
"Asia-Pacific continues to be an important focus for both Citadel and Citadel Securities," said chief operating officer for Asia Pacific at Citadel, John Buckley. "We are excited to further extend our presence in the region as we continue to grow and invest in our teams to serve our capital partners in Citadel and provide a superior trading experience for our clients in Citadel Securities."
Citadel has operated in the Asia Pacific region since 2005. In 2014, the business also became the first participant in China's qualified domestic limited partner (QDLP).
Market maker Citadel Securities has operated in Asia Pacific since 2009 where it trades in markets across the region including Hong Kong, Japan, South Korea, mainland China, Australia, and Singapore.
Earlier this year, Citadel Securities became one of the first four authorised participants to actively use Intercontinental Exchange's ecosystem for exchange traded funds (ETFs) alongside Virtu Financial, JP Morgan, and Bank of America.