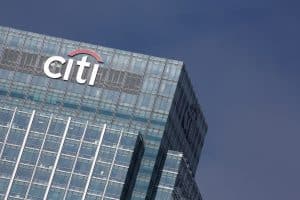 Citigroup has released its Q1 2023 earnings, reporting a net income of $4.6 billion and revenues of $21.4 billion, representing 7% and 12% increases respectively,
The overall results show a promising start for the group, however, there were declines in investment banking and equity markets.
There was a bright spot for fixed income markets within Citi's institutional clients group sector, which saw revenues increase by 4% year-on-year from $4.3 billion in Q1 2022 to $4.5 billion in Q1 2023 – largely driven by strength in rates and currencies.
In contrast, equity markets revenues at the group declined notably year-on-year by 25% from $1.5 billion in Q1 2022 to $1.1 billion in Q1 2023 – reflecting reduced client activity in cash and equity derivatives.
Overall, total markets revenues declined by 4% year-on-year (from $5.8 billion to $5.6 billion), despite a strong increase from last quarter by 42% (an increase from $3.9 billion).
Investment banking revenues were down 25% year-on-year, amounting to $774 million this quarter compared to $1 billion in the same period last year. However, compared to Q4 2022, revenues were up by 20% from $645 million. Citigroup attributed the decline in revenues year-on-year to continued geopolitical uncertainty, heightened macroeconomic uncertainty and volatility continuing to impact client activity.
"Citi delivered strong operating performance, showing good revenue growth and expense discipline despite the tumultuous environment for banks. Our robust and well managed balance sheet was a source of strength for our clients and we continue making progress in executing our strategy focused on our five core interconnected businesses while simplifying and transforming the firm," said Jane Fraser, chief executive of Citigroup.