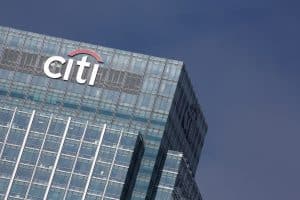 Citigroup has reported a strong quarter driven by wins in its markets division despite expectations that deal making would hinder its performance.
The bank reported a 25% increase in markets revenues in comparison with the same period last year, with fixed income revenues rising 31% on the bank of "strong client engagement in the rates, currencies and commodities businesses" and equity revenues rising 8% driven by a strong performance in equity derivatives.
"The market volatility that we saw in the first quarter continued into the second, driving corporate clients in particular to be more active in risk management, contributing to revenue growth of 25% in markets," said Citigroup chief executive Jane Fraser in the bank's earnings call on Friday.
"The volatility we saw in foreign exchange rates, commodities and equity derivatives favoured our mix, and we were more efficient in our capital usage."
Its trading wins offset the impacts of a suffering investment banking division, which much like its competitors saw revenues decrease by around 50% in comparison with last year due to reduced capital markets and M&A activity and ongoing geopolitical uncertainty.
Last week, Morgan Stanley and JP Morgan also reported losses in investment banking of 55% and 61% respectively.
Fraser said she expected lower levels of investment banking activity to "continue for the remainder of this year".
"While economic sentiment clearly impacted investment banking and wealth management, we continue to invest in these businesses and we like where they are headed," she said.
Fellow major dealmaker, Goldman Sachs, is due to release its results for the quarter this afternoon.