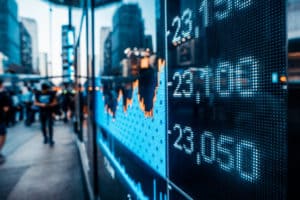 Results published by JP Morgan and Morgan Stanley for the second quarter have reaffirmed predictions that Wall Street investment banking revenues are set to take a major hit.
Both banks confirmed in their results that investment banking revenues had fallen by more than half in the second quarter.
JP Morgan said its 61% drop to $1.4 billion in revenues from the division was due to a 54% decline in fees across its products which chairman and chief executive at JP Morgan, Jamie Dimon, attributed to the "challenging macro environment".
Morgan Stanley, which saw investment banking revenues fall 55% to just under $1.1 billion, said the losses were down to lower levels of completed M&A transactions and significantly lower issuances across equity and fixed income underwriting due to market uncertainty and macroeconomic conditions, respectively.
Equity capital markets revenues have plunged 78% in Europe (to $39 billion) and 86% in the US (to $46.6 billion) this year so far, according to data by Dealogic. That's in stark contrast to 2021 performance, which saw full year revenues jump 40% in Europe and 20% across the pond.
In markets, the banks reported increases in trading revenue across fixed income and equities, with JP Morgan seeing revenue in those segments rise 15% to $4.7 billion and 15% to $3.1 billion respectively, driven by its macro business and derivatives performance.
Morgan Stanley reported a 5% increase in equity net revenues driven by volatility and a strong performance in derivatives and prime brokerage and a 49% increase in fixed income net revenues due to its performance in macro and commodities, as well as, market volatility.
"Strong results in equity and fixed income helped partially counter weaker investment banking activity," said James P Gorman, chairman and chief executive officer at Morgan Stanley.
Citi's results are expected later today and Goldman Sachs is due to publish its results on Monday.