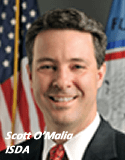 The chief executive of Wall Street's derivatives trading body believes a failure to agree on clearing house equivalence and margin rules between European and US regulators could cause further fragmentation in the swaps market.
In an online blog from Scott O'Malia, CEO of the International Swaps and Derivatives Association (ISDA), said market participants will be forced to trade along geographic lines due to different margin requirements between the US and Europe. The result could mean higher costs and systemic risk.
"Many are opting to trade with counterparties in their own jurisdictions as a result, leading to a fragmentation of liquidity along geographic lines," says O'Malia.
"Liquidity fragmentation means end users face less choice, higher costs and less ability to put on or unwind hedges, particularly in stressed markets."
He also argues an agreement on equivalence between US and European clearing rules will not come "before the third quarter at the earliest".
Timothy Massad, chairman of the US Commodity Futures Trading Commission, visited Brussels last week to discuss recognition of each region's rules on clearing houses, but failed to reach an agreement.
A joint statement issued by the two regulators stated a deal will be made by the end of this summer.
Impatience has grown throughout the derivatives industry, in which the transatlantic dispute over clearing poses the risk of significantly disputing markets.
If Europe does not recognise US CCPs by June this year, it will have to delay new capital requirement rules again, as it did in December 2014.
The potentially significant rise in costs of OTC clearing, as well as the current uncertainty in the regulatory environment, has spurred a number of mid-tier clearing banks to opt-out of providing the service in both the US and Europe, including Nomura, BNY Mellon, State Street and RBS.