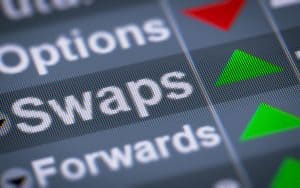 CME Group has completed the first trades of USD Eris interest rate swap futures following the migration of the derivatives to its exchange on 3 December, with ten firms actively trading.
Earlier this year, Eris Exchange confirmed plans to transition its USD swap futures to CME's multi-asset futures and options electronic trading platform Globex, as part of a licensing agreement to help market participants trade swap risk more efficiently.
The USD Eris interest rate swap futures provide an alternative to traditional over-the-counter (OTC) interest rate swaps, offering margin offsets with CME's suite of interest rate futures including treasury futures and euro dollar futures.
"We are pleased to offer our customers the ability to trade USD Eris Interest Rate Swap Futures here at CME Group," said Agha Mirza, global head of interest rate products at CME Group. "The innovative product design offers our customers another tool for capital-efficient risk management, with unparalleled global distribution to fixed income traders."
BlueCrest Capital Management and Virtu Financial joined Eris exchange as equity partners shortly after announcing plans to migrate the derivatives products to CME, with Virtu streaming two-sided electronic markets and BlueCrest trading Eris to manage interest rate risk, to grow volumes ahead of the transition.
"As an active participant in Eris Swap Futures markets, BlueCrest welcomes the successful transition of this innovative product on to the CME Group platform," said Michael Platt, CEO and co-founder of BlueCrest Capital Management. "The migration to CME Globex further enhances BlueCrest's ability to use Eris Swap Futures to trade swap risk, leveraging the unique advantages offered by the futures market structure."
Michael Riddle, CEO of Eris Innovations, which owns the patented product design of Eris swap futures, added that CME Group's global distribution and the functionality of the Globex platform means the exchange is well-positioned to take Eris swap futures to the next level of adoption as an alternative to OTC swaps.