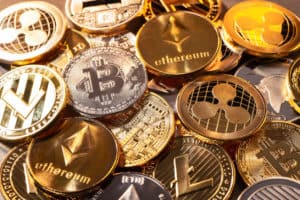 Derivatives giant CME Group is set to launch options on micro Bitcoin and micro Ether futures on 28 March, pending regulatory review.
Speaking to The TRADE, Tim McCourt, global head of equity and FX products at CME Group, said: "When we look at option trading more broadly across asset classes, shorter-dated options are becoming more important in terms of a risk management tool, or a way to deploy option trading strategies. So, with this launch, we'll be introducing weekly micro crypto options, which are different to the larger original bitcoin options that are out there.
"The market will now be able to trade Monday, Wednesday and Friday weekly expiries, which is certainly an exciting development."
The proposed micro crypto options contracts will be one-10th of the size of their respective underlying tokens and will provide a large scope of market participants – ranging from institutions to sophisticated, active, individual traders – with increased ways to manage their exposure to both Bitcoin and Ether.
The new contracts will complement existing Bitcoin options contracts, which were launched in 2020 and sized at five Bitcoin.
In addition, clients will now be able to express long- or short-term views with a choice of monthly or Monday, Wednesday and Friday weekly option expiries.
"We have worked closely with clients and the broader industry to establish robust and liquid cryptocurrency futures and options markets at CME Group," said McCourt.
"At less than a year old, nearly 5.2 million combined micro Bitcoin and micro Ether futures contracts have changed hands. Building on the strength and liquidity of the underlying contracts, our micro-sized options will enable traders of all sizes to efficiently hedge market-moving events with greater precision and flexibility or fine-tune their cryptocurrency market exposure."
The move follows CME Group's launch of a new daily US dollar reference rate for Bitcoin and Ether last month. The new reference rates are settled in US time, meeting institutional client demand for a new risk management tool.
"In working with our institutional counterparties, we know there is strong demand for safe, regulated exposure to cryptoassets," said Rob Strebel, head of relationship management, DRW.
"This innovation from CME Group provides welcomed flexibility in the listed options space, and we expect these products will help attract new investors and grow the crypto ecosystem."