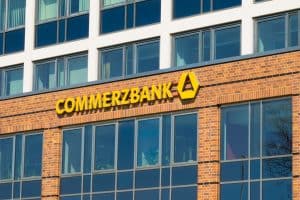 Germany's Commerzbank has agreed to pay $12 million to settle charges for various violations related to its swaps dealing activities in the US.
The US Commodity Futures Trading Commission (CFTC) said this week that Commerzbank had made misleading statements and material omissions to the regulator about its operations and compliance with certain regulations.
Between 2012 and this year Commerzbank also failed to supervise its swap dealer and adopt any procedure to determine whether swaps transactions with non-US counterparties were subject to requirements of Dodd-Frank rules.
"This case highlights the importance of complete and accurate reporting of swap transactions, supervision, and transparency with the CFTC," said James McDonald, the CFTC's director of enforcement. "The Commission will work vigorously to ensure the integrity of our markets by ensuring registrants comply with their reporting, compliance, and supervision obligations."
The misleading statements were made in Commerzbank's 2014 and 2015 chief compliance officer reports which were submitted to the CFTC. The bank failed to disclose various deficiencies with its systems and controls for swaps dealer compliance.  
Commerzbank is now required to review its swap dealing compliance and complete annual reports assessing its swap dealer's compliance for two years. An outside consultant will also review its swap dealer activities over the course of that period.
"This case is just the latest example of the close regulatory communication and cooperation that exists between the CFTC and BaFin (Bundesanstalt für Finanzdienstleistungsaufsicht) and I look forward to continuing our very strong partnership with BaFin, one of the world's leading financial regulatory authorities," added Christopher Giancarlo, the CFTC's chair.