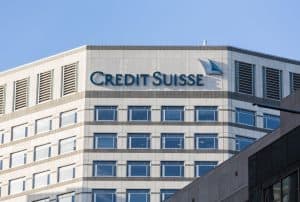 Credit Suisse has been fined a total of $77 million by authorities in the US for attempting to win business by offering employment to friends and family of Chinese officials.
The Swiss investment bank admitted that between 2007 and 2013, senior managers within its Asia-Pacific business looked to hire, promote and retain employees referred by government officials and executives of clients that were state-owned entities.
Known within the bank as 'relationship or referral hires', the candidates were often less qualified than others, less vetted and given benefits through their course of employment. Bankers within other subsidiaries at the institution, according to Credit Suisse's admissions, were aware of the scheme and helped to hire the candidates.
The bank has agreed to pay the Securities and Exchange Commission (SEC) $30 million, and the US Department of Justice $46 million, as part of a non-prosecution agreement to resolve the matter with both authorities.
"In the banking industry, not every undertaking is fair game," said assistant director-in-charge at the US Department of Justice, William Sweeney. 
"Trading employment opportunities for less-than-qualified individuals in exchange for lucrative business deals is an example of nepotism at its finest. The criminal penalty imposed today provides explicit insight into the level of corruption that took place at the hands of Credit Suisse Group AG's Hong Kong-based subsidiary."
Similar allegations hit JP Morgan in November 2016, after the US investment bank was found to have systematically handed out jobs and internships to government officials or clients. Roughly 100 interns and full-time employees were hired at the request of foreign government officials, enabling JP Morgan to win or retain business.
JP Morgan agreed settle the charges and pay the Federal Reserve Board of Governors $61.9 million, the Justice Department $72 million and the SEC $130 million, bringing its total penalty to $264 million.
"Bribery can take many forms, including granting employment to friends and relatives of government officials," Charles Cain, the SEC's chief of enforcement for foreign corrupt practice, concluded. "Credit Suisse's practice of engaging in these hiring practices violated the law, and it is now being held to account for having done so."