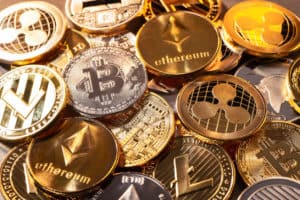 The demise of crypto exchange FTX is continuing to rock the digital assets markets, with New York-based Genesis becoming the latest major crypto institution to feel the effects.
Genesis, one of the largest lenders in the crypto space, offers trading, lending, derivatives and prime brokerage services in the digital assets space. The firm suspended redemptions and new loan originations at its lending unit yesterday as "unprecedented market turmoil" caused by FTX's downward spiral continued to see a squeeze on liquidity.
Genesis confirmed the events surrounding FTX had resulted in "abnormal withdrawal requests which have exceeded our current liquidity".
"We haven't seen the end of this yet. Lack of transparency means we don't know how far the contagion has spread," said SDX chief, David Newns, speaking at Digital Assets Week in London.
Genesis added on social media on Wednesday that its spot and derivatives trading and custody businesses remain "fully operational" and reiterated that its broker dealer that holds its BitLicense, Genesis Global Trading, was separate from all of its other entities.
The institution confirmed on social media last week that it had around $175 million locked on its FTX account, however adding in the same thread that this did not impact its market making activities and that it had no "ongoing lending relationship" with Sam Bankman-Fried's (SBF) trading firm Alameda or with FTX itself.

A rapid descent
FTX's sudden implosion has sent ripples through the market, forcing investors to back away from the exchange at speed. First reported in Bloomberg, Singapore-based investor Temasek became the latest firm to write down its $275 million investment in FTX, joining Series B investor Sequoia Capital which wrote down its approximately $210 million investment in the firm to $0 on Thursday.
The close relationship between Alameda Research, FTX founder SBF's trading firm, and the FTX exchange, came under the firing line last week, despite claims from SBF that the two are separate companies. Alameda Research was founded in 2017 and FTX was founded two years later in 2019.
According to various reports, the exchange had been using client deposits to actively trade with. Alameda Research reportedly had more than $5.8 billion of FTT, an FTX token, on its books, by far the largest contributor to its $14.6 billion assets. Around half of FTX's equity was reportedly also backed by the FTT token which had an outstanding supply of around $3 billion, meaning it would be virtually impossible to liquidate at the price marked on Alameda's books.
"The issues seen with FTX are not related in any way to the underlying technology. This is bad actors, CeFi problems, individuals who lied, lied again, and then lied some more. It's not related to the hypothesis behind DLT and blockchain as transformative technology," said Newns.
"There is an obvious requirement that the bar needs to be raised around regulation and expectations around transparency, that service providers need to be required to do."
The exchange's sudden fall from grace saw Bitcoin's price fall below $16,000 last week for the first time in two years as investor confidence took a dive.