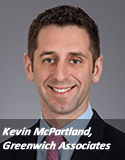 Buy-side firms are moving away from using multi-asset class trading systems despite the development of multi-asset desks and huge investment in their development from vendors, according to research from consultancy Greenwich Associates.
A survey of more than 350 buy-side traders found most are more concerned about cross-product coverage than being able to trade multiple asset classes from a single platform.
Greenwich's research found that a large majority of traders now trade multiple asset classes, with 68% of traders now operating across equities, fixed income and FX.
However this does not seem to have translated into broad demand for multi-asset trading systems. Buy-siders surveyed actually seem to be moving away from these types of systems, with the number of traders using a single platform for order management and execution dropped from 69% to 61%, while more than a third of traders are using multiple platforms.
Kevin McPartland, principal, market structure and technology at Greenwich, explained: "Wants and needs are not the same thing, and while traders might want to use a single platform, there are reasons they need to use specialist platforms that are more tailored to what they want to achieve in a particular asset class."
While other asset classes have followed equities in moving to electronic platforms in recent years, McPartland said the underlying products are still very different and the technology required to efficiently trade them on a single platform is highly complex.
"I think we will start to see convergence into single platforms but it will happen much slower than anyone previously expected," he added. "Equities, bonds and FX currently all have different rules that vary from region to region and that makes it really challenging to integrate them in a single platform."
Interestingly, Greenwich's research found that a much more important trend is the move towards use of new trading products by the buy-side. Four in five buy-siders said they use derivatives alongside cash products.
Greenwich suggest regulatory and risk management concerns are key drivers for the use of these products, with firms using derivatives to hedge positions and increasingly shifting towards futures and options as regulation of swaps increases.