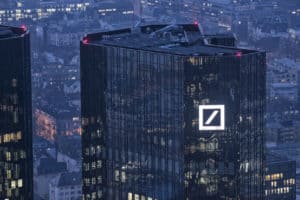 Deutsche Bank has transferred responsibility for its investment and corporate bank business to its chief transformation officer, Fabrizio Campelli, amid swathes of leadership changes.
The changes come as part of the bank's transformation plan, launched in December, and will refocus its management team to reflect its four business divisions to achieve "sustainable profitability" following its return to profitability in the last year.
Due to come into effect from 1 May, subject to regulatory approval, the leadership reshuffle will see the term of Deutsche Bank's current chief executive officer, Christian Sewing, extended until April 2026.
Sewing will transfer responsibility for the investment bank and corporate bank businesses to current chief transformation officer, Fabrizio Campelli.
The bank said Campelli will be responsible for a closer front-to-back alignment of business and operations, which it added had proven effective in its private bank and asset manager business, DWS.
"Christian Sewing's management team has impressively transformed and strengthened Deutsche Bank over the past three years," said Paul Achleitner, chairman of the supervisory board at Deutsche Bank.
"It is our priority now to adapt the management board for the next phase of Deutsche Bank's transformation, which is about efficiency, effective controls and delivering sustainable profitability. The realignment of responsibilities will allow the CEO to focus on cross-divisional priorities such as client centricity, sustainability and the control environment."
Rebecca Short, head of group planning and performance management has been selected to replace Campelli as chief transformation officer and will also assume responsibility for global procurement following the departure of chief operating officer, Frank Kuhnke, who is leaving the bank after 35 years as part of the leadership reshuffle. He has served in his current role for the last three years.
"Frank Kuhnke has played a major role in ensuring that our bank has stabilised and achieved its strategic objectives," added Achleitner. "We thank him for a total of 35 years of commitment and successful work for Deutsche Bank and wish him all the best for his future endeavours."
Alongside the departure of Kuhnke, the bank confirmed that its longest-serving member of its management board and chief risk officer, Stuart Lewis, has informed the supervisory board that he will be retiring following its next annual general meeting in 2022.