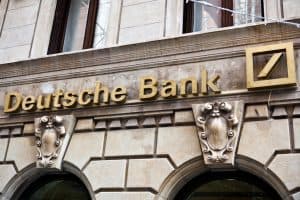 Deutsche Bank has confirmed plans to cut around 25% of staff in its equities sales and trading business as part of a major overhaul across the bank as it seeks to halt a continued decline in fortunes.
The significant scale back in equities is part of plans to reduce the bank's leverage exposure by €100 billion, or 10%, according to a statement released ahead of the bank's annual general meeting.
Germany's largest bank added that at least 7,000 jobs will be cut from across the business globally, bringing its total headcount from 97,000 to below 90,000. The cuts, which are already underway, are expected to be finalised by the end of this year.
"We remain committed to our corporate & investment bank and our international presence – we are unwavering in that," said recently appointed chief executive at Deutsche Bank, Christian Sewing. "We are Europe's alternative in the international financing and capital markets business. However, we must concentrate on what we truly do well."
Sewing was appointed CEO of the investment bank earlier this year amid turbulent times for the bank, which included the dismissal of John Cryan who held the role for less than three years. Deutsche Bank reported its third consecutive annual pre-tax loss of €1.3 billion for 2017.
In a statement immediately following Sewing's appointment, he paved the way for a major shake-up of the business by stating that under his leadership the senior management team will no longer accept 'damaging' cases where targets for costs and revenues have been missed in the past.   
"The challenge ahead is a big one for all of us," Sewing said. "We all know and sense how fast our industry is changing. The time pressure is on and the expectations are high from all sides… Therefore we'll thoroughly analyse how we want to position this pillar of our bank in a difficult market environment."
A few weeks later, Deutsche Bank confirmed plans to scale back its US rates trading and sales business, and conduct a review of the global equities business – which the bank has now stated will see a quarter of staff cut globally across the business.