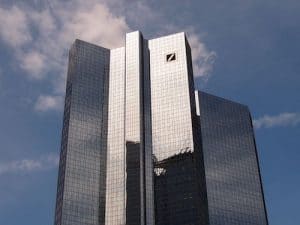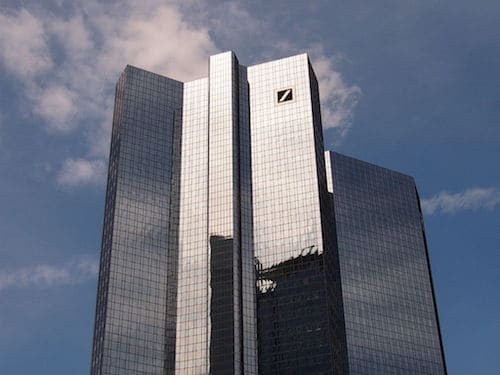 Deutsche Bank has confirmed the impending departure of its chief executive officer, John Cryan, after less than three years in the role.
He will leave at the end of this month and to be replaced by the bank's private and commercial banking head Christian Sewing, who has been with Deutsche Bank for over 30 years.
Cryan's departure comes at a turbulent time for the German bank after it reported a third consecutive annual loss in 2017, with a pre-tax loss of €1.3 billion for the final quarter of the year.
"Following a comprehensive analysis we came to the conclusion that we need a new execution dynamic in the leadership of our bank," said Paul Achleitner, chairman of the supervisory board at Deutsche Bank.
"Despite his relatively short tenure as CEO, John Cryan has played a critical role in the almost 150-year history of Deutsche Bank – and laid the groundwork for a successful future of the bank."
News of Cryan's departure has been circulating for some time and in March he penned a note to all of the bank's staff reaffirming his commitment as chief executive.
"I just wanted to reaffirm that I am absolutely committed to serving our bank and to continuing down the path on which we started some three years ago," he wrote.
"Although easier to say and harder to do in these circumstances, we need to focus on executing on the strategy that was agreed and signed off by both the management and supervisory boards. There is no difference of opinion here."
However, at the end of last week, Deutsche Bank announced its supervisory board would discuss his position over the weekend and make a decision on the leadership immediately.
Cryan's replacement Sewing first joined Deutsche Bank in 1989 and has worked in various senior positions before being promoted to president in March last year. He has also been a member of the management board since January 2015.
On his appointment, Sewing said in a statement: "The challenge ahead is a big one for all of us. We all know and sense how fast our industry is changing. The time pressure is on and the expectations are high from all sides."
He added that under his leadership the senior management team will no longer accept 'damaging' cases where targets for costs and revenues have been missed in the past.  
"We'll have to further adapt our revenue, cost and capital structure. Therefore we'll thoroughly analyse how we want to position this pillar of our bank in a difficult market environment," Sewing concluded.