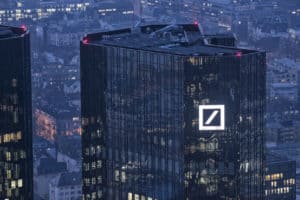 Deutsche Bank has employed the services of Google Cloud to speed up its migration of its operations and services onto the cloud.
Deutsche Bank has finalised a major agreement with Google to migrate its operations and systems to the cloud, including its Autobahn institutional electronic trading platform.
The multi-year strategic partnership will see Google Cloud reshape Deutsche Bank's products and services for up-to-date and managed cloud applications environment to increase flexibility.
Several use cases under the partnership were being considered, Deutsche Bank said, including new lending products to support pay-per-use models as an alternative to purchasing assets outright and enhancing the bank's Autobahn platform to create personalised recommendations.
Deutsche Bank and Google confirmed their plans to unite under a strategic cloud technology partnership in July earlier this year.
"With Google Cloud by our side, we have a strategic partner that will accelerate our technology transformation, enable us to use data more intelligently and provide a flexible and safe environment for us to quickly deliver new products and services," said Bernd Leukert, chief technology and data and innovation officer at Deutsche Bank. "This is the blueprint for bringing together the relative strengths within banking and technology for the benefit of our clients."
The partnership will also encourage contributions from start-ups and FinTech providers that Deutsche Bank and Google Cloud are looking to co-innovate with to support the bank's transformation goals.
"Mobile self-service options, artificial intelligence-based recommendations, and other innovations are transforming the banking experience for businesses and consumers around the world," said Rob Enslin, president at Google Cloud.
"Our partnership with Deutsche Bank will bring new innovations to life and further establish the financial services industry as an early technology adopter. Deutsche Bank is a trailblazer in the industry, and we couldn't be more thrilled to partner with such an important market leader."