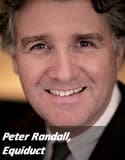 Equiduct, the retail-focused pan-European regulated market, has revealed plans to extend its services to Italy as well as strong Q3 volumes.
The trading venue, majority owned by Citadel Securities, will begin testing with domestic Italian clearing house Cassa di Compensazione e Garanzia – owned by the London Stock Exchange Group – in a process that is due to run for three or four weeks from 17 October.
Following the conclusion of the testing period and subject to regulatory approval, Equiduct will begin offering trading services in Italy.
"We have a good set of customers in Italy that want to take advantage of the best execution services for retail trading that we offer," Peter Randall, CEO of Equiduct, told theTRADEnews.com. "Italy is one of the most sophisticated retail markets in Europe, and we are confident of building a presence in this region."
Equiduct will be hoping to replicate the recent success it has had in French blue-chip stocks, where made small gains against domestic exchange operator NYSE Euronext.
According to Thomson Reuters Equity Market Share Reporter, Equiduct accounted for 1.64% – or €2.58 billion – of French stock trading in September, up from 1.56% in August.
Over the third quarter, Equiduct traded €10.2 billion, up 24% on its Q2 total of €8.2 billion, with an average €3.57 worth of price improvement on every trade, according to its own figures. Its umber of trades also increased to 1.96 million in Q3, from 1.49 million in Q2.
Equiduct was formally launched by German stock exchange Börse Berlin in early 2009. Market making firm Citadel Securities took a majority stake in Equiduct in July 2009, with Börse Berlin retained as a stakeholder. Knight Capital, a US-based broker also has a stake in Equiduct, which it increased in June last year as part of efforts to expand its European market making business.