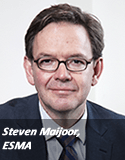 Europe's derivatives regulator has recommended changes to forthcoming regulations in a move that will please market participants fretting about the new rules.
One of the European Securities and Markets Authority's (ESMA) major recommendations will be to remove the frontloading requirement, which has been a thorn in the side of the derivatives industry.
Frontloading requires market participants to retrospectively clear existing trades once the obligation comes into force.  For the buy-side, ESMA did delay the introduction of frontloading requirements for the buy-side to five months after the regulatory technical standards (RTS) of new central clearing rules come into force for interest rate swaps. However, the rules would still have come into effect for them eventually. 
Elsewhere ESMA is also proposing the introduction of tools allowing the suspension of the clearing obligation for certain market conditions.
Another major point of contention has been the recognition of third country clearing houses, which the regulator has said it will rethink. ESMA has granted equivalence and recognition to four countries at present – Hong Kong, Japan, Singapore and Australia – but has failed to reach an agreement with its US counterparts in a long-standing stalemate. 
Elsewhere, ESMA has said it will tackle the issue of trade repositories making changes to its supervisory and enforcement powers and procedures including increases in fine levels, broadening the enforcement decisions at its disposal.
ESMA also included recommendations to remove the hedging criteria from regulations and to use other measures to determine the systemic relevance of non-financial counterparties to identify the few with the highest systemic importance.
Tackling these key issues shows the market that the European regulators have been listening to criticism from the market.
"EMIR is a key component of the EU's regulatory reform package in response to the financial crisis affecting many elements of OTC derivatives markets," said Steven Maijoor, ESMA Chair. "While its implementation is still underway we recommend a number of changes, based on our experiences, to improve and streamline the regulatory and supervisory framework and to ensure that the objectives of stability and investor protection are met."