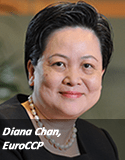 Poor synergy between cash equities and equity derivatives along with shifting goalposts for the implementation of derivatives clearing rules mean EuroCCP has ruled out entering the market.
The pan-European clearing house has seen most of its competitors enter the derivatives clearing space in recent years in preparation for the European market infrastructure regulation (EMIR).
However, EuroCCP's CEO, Diana Chan, told theTRADEnews.com that recent exits from the derivatives clearing space indicated that expanding into derivatives clearing can be an expensive undertaking that may offer little to its customers.
"We want to remain very focused on serving the cash equities space and we don't see a lot of synergy with equity derivatives. The collateral savings for clearing participants simply aren't there as equities settle in two days and any portfolio margining effects are extinguished after that," said Chan.
"It makes much more sense to portfolio margin derivatives against derivatives because the collateral savings could be significant.  However, there are risks associated with that."
Earlier this month, BNY Mellon shut down its derivatives clearing business, citing movement of the deadline for OTC derivatives clearing. Chan said the regulatory uncertainty surrounding EMIR makes it difficult to justify the cost of setting up a derivatives clearing business.
"Many firms rushed to get that first-mover advantage and developed OTC derivatives clearing capabilities, at great expense and with significant ongoing maintenance."
Europe is currently gearing up for a highly competitive clearing market for derivatives as they are considered to be more profitable and offer better growth opportunities compared to equities. However, the large number of competitors and uncertainty over how quickly clearing mandates for OTC derivatives will be introduced and when exchanges will no longer be able to maintain competitive advantages for their own clearing houses, means entering the market now can be extremely costly with only distant prospects of making a return on investment.
Chan added: "MiFID II is still a long way away and it may be even longer before derivatives clearing really opens up as the vertical silos will try to hold onto their clients for as long as possible. Even when the market does open up, there will be many competitors all vying for position."
As a result of the high level of uncertainty, EuroCCP plans to continue focusing on its core equity clearing offering and Chan said it would only consider derivatives if one of its larger clients asked it to enter the market and offered sufficient business for it to be economically viable.
"While our competitors are chasing the potential profits to be made from derivatives clearing, we want to continue to be 100% focused on equities clearing and helping clearing members to cut their costs," she said.