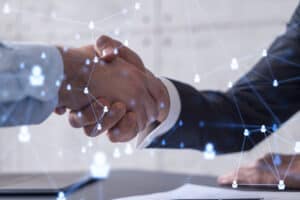 Europe's biggest pan-European stock exchange group, Euronext, today confirmed that it is talks to buy wealthtech platform Allfunds, following media speculation.  
The group confirmed in a statement on 22 February that it has submitted an indicative offer to the Allfunds board and is currently in active discussions with the firm's largest shareholders – upon whose agreement the deal is conditional.  
Allfunds shareholders include private equity firm Hellman & Friedman (H&F) and BNP Paribas, who together own 46.4% of the firm. Allfunds confirmed that Euronext has been in touch with both firms to obtain their support for the deal.  
The unsolicited offer proposes €8.75 per Allfunds share, valuing the company at around €5.5 billion. Under the proposal, the number of new Euronext shares for each Allfunds Group ordinary share would be set by reference to the one‑week volume‑weighted average price of Euronext shares on the last trading day before the date of formal announcement of the offer. 
As part of the proposal, Euronext would also pay to Allfunds Group shareholders a ticking fee per share, corresponding to 5.5% per year.  
"This indicative offer is currently under consideration by the Board of Allfunds and Euronext reserves the right to amend its terms," said the exchange group in a statement. "There can be no certainty that this will lead to an offer being made." 
Allfunds confirmed that its board is currently evaluating the offer proposal. "There can be no certainty that any transaction will be forthcoming nor as to the terms on which any such transaction may occur," it said.  
The group reportedly saw acquisition interest from Deutsche Borse back in 2020, although few further offers have arrived on the table since. In October 2022, Credit Suisse sold its 8.6% stake in Allfunds for €334 million.  
Allfunds had a volatile year in 2022, with Q3 (the latest results available) showing a year-on-year decrease in assets under administration of 8.6%, to €1.29 trillion: including a decrease in dealing and execution assets under administration, which were down 5.9% June 2021 – although up 2.5% (€9.6 billion) over the quarter to October. The group saw outflows from existing clients of €13.7 billion in Q3, mostly in equities, although inflows from new clients accounted for €10 billion and the group claimed a strong pipeline of new clients for the rest of the year. Year-to-date as of October 2022, Allfunds had onboarded 104 new fund houses (adding to around 3,000 existing) and 51 new distributors.  
"While we face challenging market conditions that have led to a slowdown in activity year-to-date, Allfunds continues to experience a positive trend in our organic growth levers: strong flows from new client migrations with €17.2 billion – the best quarter in migrations this year and in line with the expected migrations pipeline, capacity to attract new clients across all of our markets and strong progress and growth of our digital subscription offering," said founder and CEO Juan Alcarez, speaking on the Q3 results in October. "We are delivering on what we can control." 
The group has been on a buying spree of its own in recent months: acquiring Madrid-based digital solutions provider Web Financial Group in April 2022, London-based data firm instiHub Analytics later the same month, and London-based ESG platform Mainstreet Partners in June.  
On 8 November 2022, Allfunds announced a share buyback programme for €10 million. 
Both Allfunds and Euronext declined to comment further on the potential takeover.