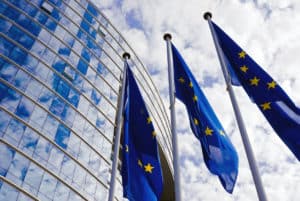 The European Commission is currently investigating whether Deutsche Bank and Rabobank breached EU antitrust rules by colluding to distort competition through a bonds trading cartel.
From 2005-2016, Deutsche Bank and Rabobank allegedly shared sensitive information and coordinated pricing and trading strategies via emails and online chatroom communications when trading Euro-denominated Sovereign, SSA, covered and government guaranteed bonds in order to distort competition.
Following its decision to scrap a settlement with the banks due to a lack of progress, the watchdog is now the process of following antitrust procedure which involves offering the parties a right to reply and exercise defence. If after this procedure is completed, the watchdog finds evidence of infringement, it can prohibit conduct and impose a fine of up to 10% of the company's annual worldwide turnover.
"Deutsche Bank has proactively cooperated with the European Commission in this matter and as a result has been granted conditional immunity," said Deutsche Bank in a statement.
"In accordance with the European Commission's guidelines, Deutsche Bank does not expect a financial penalty. As this is an ongoing investigation, we cannot comment further."
Rabobank had not replied to a request for comment at the time of publishing.
The investigation is the third of its kind in the last few years after five major investment banks – Barclays, Royal Bank of Scotland (RBS), Citigroup, JP Morgan and MUFG – were handed fines totalling around €1 billion by authorities in Europe in 2019 for taking part in cartels to rig the foreign exchange spot market for 11 currencies.
More recently in 2021, in two separate bond cartels, Nomura, UBS, and UniCredit in May and Bank of America Merrill Lynch, Credit Agricole and Credit Suisse in April were fined €371 and €28 million respectively.
There has been a more widespread clamp down on unregulated communication channels such as WhatsApp from regulators globally as these instances become more common.
The US Securities and Exchange Commission (SEC) confirmed in November that its enforcement penalties had surged to a record in the government's fiscal year, with its total enforcement actions totalling $6.4 billion in fines, up from $3.9 billion last year. Fines around the use of messaging services such as WhatsApp to conduct business have largely driven this rise. Bank of America was served with a $200 million fine from the Securities and Exchanges Commission (SEC) in July relating to its use of "unapproved personal devices", joining JP Morgan and Morgan Stanley who both also received multi-million-dollar fines from the regulator in the same month.