In association with:


Monday 12 November 2018
Mayfair Hotel London

Register here
Technology developments for the financial markets are moving faster than ever before, with advances in data and the emergence of cryptocurrency trading at the forefront of FICC interests.
Featuring two in-depth panel discussions comprising buy-side and industry experts, and a keynote address from British journalist, author and broadcaster, Matthew Syed, the event will cover everything you need to know about the next steps of market evolution.
14.00 – 14.30 – Registration
14.30 – 14.45 – Opening remarks – Seth Johnson, CEO, NEX Markets
14.45 – 15.30  – Panel 1: Where can crypto learn from FX and FX learn from crypto?
What problems are institutions currently facing when looking to trade crypto assets?
Where will expertise for crypto asset trading develop?
What are the structural changes required in crypto asset trading if it is to be successfully adopted by the institutional market?
Where does FX lead crypto and where does crypto lead FX?
Moderator:
Jonathan Watkins, managing editor, The TRADE
Speakers:
Alexis Atkinson, head of order driven markets, NEX Markets
Phil Gillespie, CEO Japan, B2C2
Ryan Radloff, CEO, Coinshares UK
Sam Tegel, chief strategy officer, SeedCX
15.30 – 16.00 – KEYNOTE SPEAKER: Matthew Syed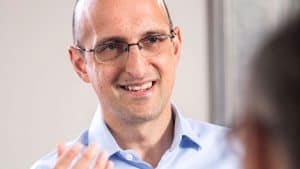 Matthew Syed is a journalist, author and broadcaster. He has written for The Times newspaper since 1999 and has published four awards winning books; Bounce (2011), Black Box Thinking (2016), The Greatest (2017) and You Are Awesome (2018).

16.00 – 16.30 – Coffee break
 
16.30 – 17.15 – Panel 2: The evolution of data and its impact on buy-side trading decisions
How can buy-side firms find new data sources that are in-line with their strategies?
How will the use of data for trading decisions evolve from here and how it can it be made more granular?
What data sources do the buy-side find most valuable when it comes to optimising decision making?
Has alternative data become a necessary tool/cost for the buy-side? What are the benefits involved with alternative data?
Moderator:
John Brazier,

 

editor, The TRADE
Speakers:
Tim Cartledge, global head of FX and head of product, NEX Markets
Stephen Grady, managing director, sales and account management, IHS Markit
Neil Joseph, European head of equity trading, J.P. Morgan Asset Management
17.15 – 17.30 Closing remarks – Seth Johnson, CEO, NEX Markets
 
17.30 – 19.00 – Network reception

To register to attend this event, please click here.
Spaces are limited so we advise registering early to avoid disappointment.