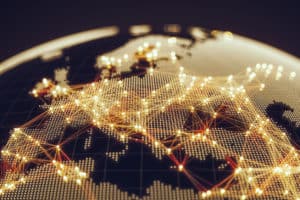 Fintech firm FINBOURNE Technology has won the recent tender process to become the technology infrastructure provider for the joint consolidated tape (CT) project for fixed income in Europe, first launched by Bloomberg, MarketAxess and Tradeweb in June 2022.  
Read more – Bloomberg, MarketAxess and Tradeweb take the wheel in European fixed income tape plans 
"We believe a CT would play a key role in achieving this and it is why we've spent significant time collaborating with capital markets firms, regulators and industry bodies, to collectively understand the data, its quality and how to deliver a resilient and practical CT to the market," said FINBOURNE, commenting on its selection. 
"Facilitating change is integral to our mission and in everything we do. It is the driving force behind the achievements, ambition and value creation our employees deliver. Our selection further validates our modern, cloud-based, API-first technology and our ability to deliver critical data access and transparency." 
No further information is currently available, although Tradeweb told The TRADE that: "Together with Bloomberg and MarketAxess, we will be sharing more information on the progress of our EU bond CTP initiative in due course." 
The tape has been the subject of longstanding and widespread controversy, but achieved a renewed focus in December 2022 when the Czech presidency of the Council of the European Union in its last days in office finally agreed on a compromise that would push the controversial Mifid II review through to the next stages of discussion. The agreement included plans for a close-to-real-time consolidated tape which includes post-trade data together with best bids and offers available at the time of the particular trade. 
Read More – Czech Presidency achieves Mifid milestone as compromise is approved 
Founded in 2016, FINBOURNE has made substantial growth strides over the past year – in 2022 it increased headcount by nearly 50%, and recently launched operations in North America and Asia Pacific with new offices in New York and Singapore. Last month the firm also secured a £30 million debt facility from Kreos Capital, which will enable it to further expand its international footprint.  
However, FINBOURNE is not the only player in the market, and other competitors are also looking to develop a CT – including capital markets tech firm Etrading Software, which in December 2022 received a significant investment from the private equity division of Lloyds Banking Group, LDC, to help develop its plans.  
Read More – Consolidated tape proposal receives significant boost from private equity investment