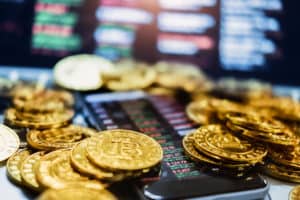 Crypto market maker B2C2 has appointed the former fixed income chief operations officer at Citadel Securities as president of its USA business.
Nicola White joins B2C2 from Citadel Securities where she had served as global operations chief for fixed income for nearly four years, remaining under a non-compete for the last year and a half.
In her role at Citadel Securities, she was responsible for the market maker's strategy for establishing its fixed income institutional business with Citadel Securities becoming the only non-bank market-making member of TradeWeb during her tenure.
Prior to Citadel Securities, White also served at Morgan Stanley for 12 years, most recently as global head of electronic markets for fixed income. She originally joined the US investment bank in 2003 as an analyst, going on to serve in several roles across electronic trading and its rates business.
"She [Nicola White] brings with her a vast network of relationships in the traditional finance space, as well as the tools to help ensure that whatever regulatory change occurs in our market, B2C2 will be prepared, thereby allowing a seamless transition for our existing products as well as our new initiatives," said Rob Catalanello, co-chief executive officer of B2C2.
White joins B2C2 following its acquisition by Japan's SBI in December last year. Since its acquisition, the market marker said it had also recently expanded its offering outside of crypto to include 24/7 FX trading.
Institutional interest in cryptocurrency trading has continued to grow in the last year, leading to several infrastructure initiatives to be launched in the market.
Cryptocurrency exchanges Gemini and Archax both became the first trading venues to receive approval from the UK's Financial Conduct Authority (FCA) last year while more recently US private equity investor JC Flowers acquired a stake in cryptocurrency exchange operator LMAX Group last month for $300 million.
"I have been watching cryptocurrency markets as they are innovating at a fast pace and I want to use my experience in growing fixed income businesses to help drive the crypto industry forward," said White.
"B2C2 for me combines many things that I'm passionate about: improving liquidity and transparency through market-making, spurring the development of new markets, and helping clients solve problems."