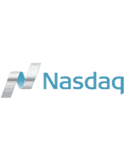 Nasdaq OMX Group blamed unfavourable foreign exchange rate movements for impacting net revenues in three of its four major business lines in the fourth quarter of 2014, compared to a year earlier.
Net revenues for the fourth quarter of 2014 were down 1% year-on-year, the exchange operator said in its investor report today.
In its Market Services business line, the company said the Equity Derivatives, Cash Equities and Fixed Income Currency & Commodities (FICC) divisions were all hit by changes in forex rates.
The Market Services unit, which represents 39% of the group's total revenues saw net revenues nudge up to $205 million, in the fourth quarter compared to $204 million during the same period a year earlier.
The group's Equities Derivatives division saw a decline of $1 million as a result of forex movements, but the group said revenues were higher when the currency impact was stripped out due to higher European and US contract volumes.
The Cash Equities division was up 15.3% ($9 million) for the quarter compared to the previous year as a result of an increase in the market share traded on Nasdaq exchanges.
FICC net revenues were down 19.4% for the fourth quarter compared to the previous year from $36 million (Q4 2013) to $29 million (Q4 2014) as a result of a drop in volumes across the FICC division and a "scheduled reduction in payments" from a technology customer.
The group's Technology Solutions business saw revenues fall from $151 million in 2013 to $138 million in the last quarter of 2014.  
The company's Information Services division had a better last three months of the year, with revenues up from $107 million to $113 million.
Listing Services – the fourth major business line, saw revenues nudge upwards by $3 million year-on-year.