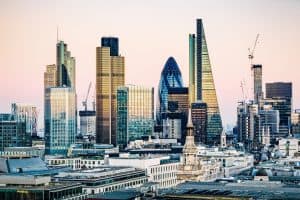 FX trading volumes in the UK reached record highs in April this year, according to the Bank of England, driven by a surge in FX swaps and forwards turnover.
The Bank of England's biannual research revealed that average daily turnover was $2.86 trillion per day in April 2019, the largest turnover on record, up 12% from six months prior and a 7% increase from the previous record of $2.67 trillion set in April last year.
The surge in overall FX average daily turnover in the UK was driven by record activity in FX swaps in April which totalled a record $1.46 trillion per day, a 23% increase from the previous record set in October last year. Outright forwards volumes were also up by 18% in April this year from six months ago, with average daily turnover of $317 billion.
In April, GDP/USD turnover increased 16% compared with October 2018 data, with a record high average daily turnover of $376 billion. EUR/USD turnover also increased by 18% to record highs of $831 billion during the analysed period.
The Bank of England used data from 28 major financial institutions actively trading FX in London, including JP Morgan, Barclays, Credit Suisse, UBS, Morgan Stanley, Goldman Sachs, HSBC and Bank of America Merrill Lynch.
In contrast, the New York Federal Reserve's biannual FX trading volumes survey showed that FX trading activity in the US fell sharply in April this year. According to the data, average daily volume in FX in North America plummeted 18% compared to last year, with spot transactions posting the largest decrease year-by-year of 26%.
FX forward and swaps transactions were also down 16% and 14% respectively in North America in April, but OTC options in the region surged by almost 19% to an average daily volume of $52.8 million.
The Federal Reserve analysed data from 21 financial institutions including Citigroup, Deutsche Bank, JP Morgan, Goldman Sachs, Societe Generale and State Street.