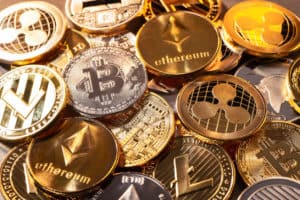 Goldman Sachs has offered its first ever derivatives product linked to Ethereum (ETH), marking increased participation from major banks looking to embrace cryptocurrencies.
The bank stated that it also plans to offer over-the-counter Ether options trading to meet growing interest from clients for the for the digital currency.
The move by Goldman Sachs follows the bank's first trade of over-the-counter Bitcoin options almost 16 months ago.
The bank executed its first trade of ETH non-deliverable forwards (NDFs) citing Marex Financial as its counterparty in this transaction.
The derivative contract pays out in cash based on the price of ETH, allowing institutional investors to access exposure without holding the underlying cryptocurrency.
Users will also benefit from improved counterparty risk management and improved capital efficiency, as well as increased reliability due to liquidity and access being restricted to end users.
After originally shelving the idea of creating a trading desk dedicated to digital assets in 2018, due to regulatory uncertainty, Goldman Sachs opened its crypto trading desk in March last year, offering Bitcoin futures contracts.
In addition, the bank has been clearing Cboe and CME Bitcoin futures contracts for over three years alongside providing clients with liquidity for those futures.
In respect to physical bitcoin, Goldman Sachs has not revealed any plans to support the underlying cryptocurrencies, with executives saying the bank is unlikely to do so until it receives backing from US regulators.
Institutional interest in crypto has led to increased services being provided by various trading platforms.
Earlier this week, The TRADE reported that Bloomberg, OSL Digital Securities and Paxos are among the institutions responding to increased interest in digital assets.
Namely, Bloomberg expanded its coverage of cryptocurrency data on the Bloomberg Terminal to include the top 50 crypto assets including Bitcoin, Binance Coin, XRP and Solana.