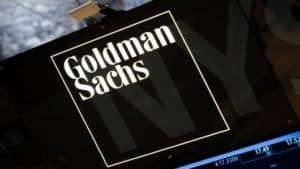 US investment banking giant Goldman Sachs is among seven major dealers to support IHS Markit's trade processing service for OTC derivatives as the Libor benchmark is phased out.
IHS Markit said that the first wave of OTC derivatives trades using the Libor replacement, Secured Overnight Financing Rate (SOFR), deployed MarkitSERV to match, confirm and straight-through process transactions for clearing and regulatory reporting.
Seven major derivatives dealers, including Goldman Sachs, have completed SOFR trades with MarkitSERV, including for both cleared and non-cleared, as well as party-to-party direct and swap execution facility (SEF) trades.
"Goldman Sachs fully supports the advent of new reference rates and the important changes they will bring to our markets," said Richard Chambers, global head short macro trading at Goldman Sachs. "MarkitSERV helps us and our clients operate efficiently and keep pace with rapid evolution in derivatives markets.
Shawn Bernardo, CEO of TP ICAP's SEF, added that as one of the first SEF's to execute a SOFR swap transaction with MarkitSERV, the company found it was able to rely on IHS Markit's network and post-trade services to process and complete the trade.
MarkitSERV currently supports several reference rates including SOFR, SARON for Swiss Francs, SONIA for British Pounds, and TONA for Japanese Yen. IHS Markit added that it consults clients and market participants on each new reference rate to ensure standards are met and functions are reliable.
SOFR was introduced earlier this year as an alternative benchmark to Libor for US dollar derivatives and other financial products. It was first published by the New York Federal Reserve Bank in April and is now considered best practice following years of controversy and manipulation shrouding the Libor benchmark.
"Helping our clients adopt new reference rates is a classic example of how we provide a highly reliable and efficient mechanism for the derivatives market to both innovate and respond to industry-driven change," said Claire Lobo, managing director at MarkitSERV.
"As we have done for clearing, reporting and electronic trading, when we bring a new standard like SOFR onto MarkitSERV, we automatically update the market and create the bridge between new and old types of swaps, regulatory regimes and multiple forms of trade execution."