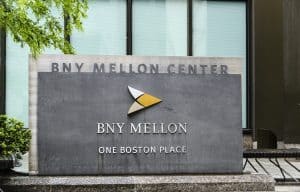 BNY Mellon has hired a former Goldman Sachs senior director in a new role that centralises the leadership for the custodian's capital markets businesses.
Robin Vince has been appointed as vice chair and CEO of Global Market Infrastructure, where he will have oversight of Clearance and Collateral Management, Treasury Services, Markets and Pershing businesses.
Vince will take on the role from 1 October and report to Todd Gibbons, CEO of BNY Mellon.
"In line with our growth agenda and our strategy to continue building platforms on which our clients can grow and drive profitability, we are pleased to appoint an executive of Robin's calibre as vice chair and of BNY Mellon and CEO of Global Market Infrastructure," said Gibbons. 
"By bringing these four complementary businesses together under his leadership, we are better positioned to become the central facilitator in our clients' capital markets ecosystems – across markets, asset classes and geographies."
BNY Mellon stated the creation of the role will help the bank achieve synergies across the four business units in order to provide increased value to clients and deliver more end-to-end solutions. 
Vince previously spent over 26 years at Goldman Sachs where he was a long-time partner and member of the bank's management committee. 
During his time with Goldman Sachs, he served in some of the bank's most senior roles, including chief risk officer, head of operations, CEO of Goldman Sachs International Bank, and head of global repo trading and funding, among several others. 
He also served on several key subsidiary boards and governance committees, including being a board member and committee chair of the DTCC for four years.
"BNY Mellon is an historic institution with a rich legacy and reputation for serving as a trusted steward for the global financial markets, and I'm excited to help build on that legacy going forward. The company has an unparalleled client portfolio and is uniquely positioned to be the platform through which our clients continue to build and grow profitable businesses," added Vince. 
"We will focus on expanding solutions across our clients' full range of needs and deepening our already robust relationships."