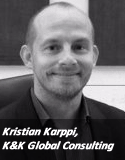 The majority of buy-side traders believe unbundling of research and execution commissions will provide them with a competitive advantage, according to K&K Global Consulting.
The research consultancy, which regularly hold buy-side only events to discuss industry trends, said overall traders were positive about the trend, but do not think the changes will bring significant cost savings.
Kristian Karppi, managing director of K&K, said: "One of the key benefits the buy-side is seeing is that the head trader is seeing research fall out of their area of responsibility and shifting to the portfolio managers."
They also felt that being freed from having to allocate execution business to firms that provide research would give them a competitive advantage through trading.
However, despite suggestions by regulators that unbundling will bring cost savings, Karppi said most buy-side desks do not expect overall costs to fall.
"The expectation is that dealing costs will not be reduced a whole lots," he explained. "But what heads of desk do expect is that the research their firm receives will be of a higher quality and that service levels will improve."
Despite the generally positive reaction to unbundling, K&K has also found that there remain some major obstacles to overcome towards a fully unbundled market.
When surveying the buy-side last year, Karppi found that not a single firm had received a research price list, something that is seen as being essential to enabling the buy-side to set an accurate value for what they pay for.
There are also fears that small stock coverage will decline and that heads of trading will lose sight of smaller and mid-cap brokers as they focus on firms providing the most cost-effective execution solution.