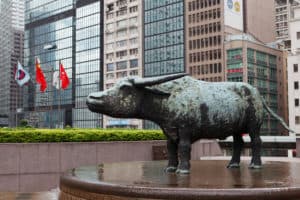 Hong Kong Exchanges and Clearing Limited (HKEX) is preparing to roll out futures and options contracts on the Hang Seng TECH Index as the first exchange-traded derivatives to track the benchmark.
The Hang Seng TECH index futures will launch later this month on 23 November, with plans to go live with options on 18 January next year, subject to market readiness and regulatory approval.  
HKEX said the introduction of the new derivatives contracts would give the technology sector in Hong Kong greater product coverage. The new index products will also provide new exposure management tools to the market.  
"The Hang Seng TECH Index aims to reflect the performance of main players in the technology sector listed in Hong Kong, and to facilitate the development of various index-linked products, including derivatives and ETFs," said chief executive officer of the Hang Seng Indexes Company, Anita Mo.
"We are pleased to see the launch of the linked futures and options tracking Hang Seng TECH Index and it significantly advances our aim of establishing the Hang Seng TECH Index as our third flagship index."
The Hang Seng TECH Index was launched in July earlier this year and tracks the 30 largest technology companies listed in Hong Kong. There are already four Hang Seng TECH Index ETFs trading on HKEX's markets.
The exchange operator added that according to back-testing data, the Hang Seng TECH index has provided returns of 36% in 2019 and 60% in 2020 as of 1 October this year.
In August, HKEX released its latest batch of futures with MSCI after entering into a major agreement with the index provider earlier this year. Eight MSCI index futures denominated in US dollars and track underlying equities in certain markets in Asia were launched at the time.