Hong Kong Exchanges and Clearing (HKEX) has made a £32 billion offer to buy the London Stock  Exchange Group (LSEG) in a colossal move to combine two of the largest market infrastructures in the world.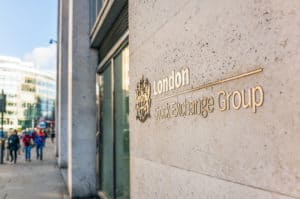 HKEX has offered £20.45 a share in cash and 2.495 newly issued HKEX shares.
The proposal significantly builds on Deutsche Borse's failed bid for LSEG in 2016, which came in at £21 billion.
HKEX's offer comes just a month after LSEG agreed its own mega deal with data and trading services provider Refinitiv for $27 billion. In a statement, the Asian exchange group made it clear that it's offer hinges on LSEG not completing the deal which LSE saw as a major data and analytics play.
The LSEG consists of clearing house giant LCH, along with numerous equities and derivatives trading venues and global indices business FTSE Russell.
"Bringing HKEX and LSEG together will redefine global capital markets for decades to come," said Charles Li, Chief Executive of HKEX.
"Both businesses have great brands, financial strength and proven growth track records. Together, we will connect East and West, be more diversified and we will be able to offer customers greater innovation, risk management and trading opportunities. A combined group will be strongly placed to benefit from the dynamic and evolving macroeconomic landscape, whilst enhancing the long-term resilience and relevance of London and Hong Kong as global financial centres."
The deal would put London's biggest stock exchanges fully under HKEX ownership, after the Asian bourse purchased the London Metal Exchange for £1.4 billion back in 2012.
It would also eclipse the other biggest exchange mergers in history, such as Intercontinental Exchange's purchase of the New York Stock Exchange for $8.2 billion or the Chicago Board Options Exchange's (CBOE) acquisition of Bats Global Markets for $3.4 billion.
"Together, they will create a world-leading global exchange that spans Asia, Europe and the United States with a market value of more than $70 billion," added Li.
While the market awaits a response from the London Stock Exchange, comments from LSEG's chief executive in June that the rise of nationalism and a negative focus on exchanges has made any future cross-border mergers for the group very unlikely.
Recently appointed CEO of LSEG, David Schwimmer, told delegates at the FIA IDX conference in London in June that the negative focus on exchanges in the wake of increased nationalism means that a merger has become too challenging.
"There have been some big, painful failures out there in the industry," Schwimmer said. "I think especially in the environment we are in today, with more market fragmentation as opposed to more cooperation across markets, and more nationalism. There will continue to be this nationalistic focus on exchanges in particular. It's hard to think about doing big cross-border exchange-type transactions. It just feels challenging for the industry."
HKEX's play for the LSEG comes as it tries to build out its position as the gateway to China on a global scale as the market looks to open up to the rest of the world.
The interest is evidently there from London, after a Stock Connect was opened up between the city and Shanghai in July this year.
The Stock Connect aimed to encourage cross-border investment between the UK and China, providing firms and investors mutual access to the capital markets in both countries via an arrangement between LSE and the Shanghai Stock Exchange (SSE).
Other initiatives to open up the market such as Bond Connect and the inclusion of China's A-Shares in the coveted MSCI Emerging Markets Index have also boosted interest.
In addition, the move comes as trade war tensions between China and the US have escalated and the former has scrapped its quota system for foreign institutional investment.
"The combined group could provide the most comprehensive and international product and service offering to Asian investors, whilst also opening up Asia's emerging economies, such as China, to provide unlimited long-term capital flows to fund the growth of developed capital markets in the West," added Li."
"Data is also part of HKEX's ambitions: we are currently looking at the development of a next generation digital asset trading platform. We intend to inject new energy and vigor into the global financial industry by leveraging the massive amounts of data generated from Asian countries and, in particular, the highly digitised economy of China.