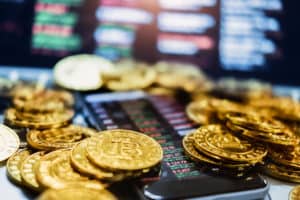 Paris-based Horizon Software, a provider of automated trading solutions and algorithmic technology, has expanded its crypto trading platform to include the well-known crypto exchange BINANCE to its list of gateways.
The addition will allow its clients, notably hedge funds, to trade spot and futures on cryptocurrencies. Because crypto trading takes place 24/7, Horizon has adapted its trading platforms to these requirements, updating its algo framework and Principal Trading features to enable both long and short strategies as well as arbitrage strategies.
BINANCE is the latest exchange to connect with Horizon, joining players including Coinbase, Kraken, Bitstamp and Bittrex.
 "Cryptocurrency market capitalization reached close to $3 trillion USD at its peak in November 2021," said Vincent Dumontoy, Horizon's global head of product management. "We believe cryptocurrencies are here to stay as market participants use them to diversify their portfolios and to perform transactions on-chain.
"As a cross-asset trading platform, cryptocurrencies are an integral part of Horizon's strategy. We're already connected to main cryptocurrency exchanges and offering full scope of Principal Trading strategies on crypto cash and futures through market making and algo trading."
 In 2022, Horizon plans to extend its Principal Trading scope to options on Deribit, while its Agency Trading modules will also handle 10-9 quantity precision to be able to execute crypto client orders.