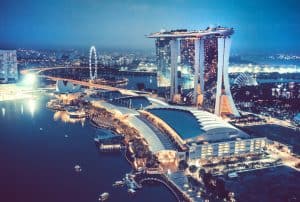 Intercontinental Exchange's (ICE) US-based credit default swaps (CDS) clearing house has been granted regulatory approval to operate in Singapore.
ICE Clear Credit received clearing house status from the Monetary Authority of Singapore (MAS), making it the first global CDS clearing house to be recognised in the country.
The approval means ICE Clear Credit can now begin on-boarding clearing members from Singapore for clearing of CDS contracts, after the new status came into effect on 7 December.
"ICE Clear Credit is now the first global clearinghouse for credit default swaps in Singapore meaning that it can now have clearing members from Singapore and further serve our customers in the region," said Stan Ivanov, president of ICE Clear Credit. "Singapore is the hub for our Asian business and this recognition will help us to expand our offering to customers across Asia and Australia."
In April last year, ICE Clear Credit introduced clearing for CDS contracts from 14 major US and European financial institutions, including JP Morgan, Goldman Sachs, Barclays, UBS and Credit Suisse. Ivanov described the launch of the clearing services for the single names as an important milestone for the global credit market.
ICE Clear Credit and its European counterpart, ICE Clear Europe CDS, now offer clearing for more than 500 single name and 160 index CDS instruments, and have reduced counterparty risk exposure by clearing around $110 trillion in gross notional.
The exchange group's CDS clearing house is also currently recognised as a third-party central clearing counterparty (CCP) under the European Market Infrastructure Regulation (EMIR) by the European Securities and Markets Authority (ESMA), for products regulated by the US Commodity Futures Trading Commission (CFTC)