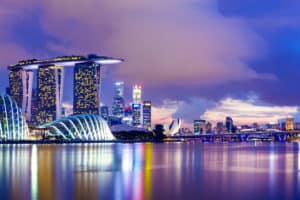 Intercontinental Exchange (ICE) has announced that it will launch Micro Asia Tech 30 Index futures contracts on its Singapore exchange on 26 April.
The futures contracts are based on the recently launched ICE Asia Tech 30 Index (ICEAT30), which enables investors to capture the performance of the 30 largest technology and tech-related companies listed on selected Asia-Pacific exchanges.
Each Asia Tech 30 Index futures contract is micro-sized at around $10,000, which gives market participants the ability to accurately scale their exposure.
The index currently consists of companies including Taiwan Semiconductor Manufacturing, Tencent Holdings and Alibaba Group Holding. The approximate country allocations as of the last quarterly reconstitution are as follows: China 37.40%, Japan 24.67%, South Korea 19.15% and Taiwan 18.78%. The index constituents are reviewed quarterly.
The index is denominated in US dollars and is published in real-time to ICE's consolidated feed, which is ICE's primary market data source for equity real-time and closing prices.
"The Asia-Pacific technology sector is an exciting space for investors and these micro futures contracts provide the ability to invest in the largest and most important of Asia's tech firms through one single futures contract," said Lucas Schmeddes, president of ICE Futures Singapore. "Over the last few months, tech companies in the region have fully benefited from the digital acceleration from blue chip conglomerates such as Samsung, to emerging e-commerce platforms such as Meituan."
The Micro Asia Tech 30 Index futures contracts will trade alongside other contracts on ICE Futures Singapore such as Bakkt Bitcoin Futures, as well as cash settled Mini Brent Crude, Mini US Dollar Index, Mini US Dollar/Offshore Renminbi, and Mini US Dollar/Singapore Dollar futures.
"The new index is designed around the concept of today's modern technology landscape, including highly capitalised and liquid companies across both the technology and tech-related sectors," said Phil Galdi, head of indices at ICE. "The index is constructed on the basis of our ICE uniform sector classification schema, and its rules-based approach to selecting and weighting companies offers an incredibly efficient benchmark for investors to track the returns of this rapidly growing space."