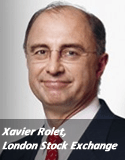 Information services, including the acquisition of Russell Investments' index business last year, have helped bolster relatively modest Q1 performance for London Stock Exchange Group (LSEG).
Overall revenue, excluding the Russell Investment Management business LSEG is currently trying to sell, increased by 6% compared with Q1 last year. Including Russell Investment Management, actual revenues were up by 86% to £581 million.
Within the information services arm of the business, which includes the Russell Indexes business, revenues increased by 42% and up 5% on a constant currency basis, with its existing FTSE business increasing sales by 12%.
Revenue from capital markets remains relatively flat, climbing by a modest 2% in Q1 2015.
In the post-trade space, which has helped LSEG to strong performance in recent quarters, its Italian post trade business saw revenues up 4% on a constant currency basis but down 6% overall. Meanwhile its LCH.Clearnet business was flat after adjusting for currency changes, though its SwapClear business saw strong growth with revenue up 16%.
Technology was up 2% at constant currency and 5% overall.
Xavier Rolet, chief executive of LSEG, said: "FTSE and Russell Indexes have both performed well, Capital Markets revenues have continued to grow and we have seen good underlying performance in our Italian post trade business and at SwapClear.
"We remain focused on realising integration and efficiency benefits, as well as developing the many opportunities across the Group arising from our extended geographic reach and product range."