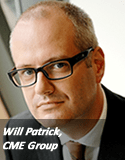 The introduction of exchange-traded foreign exchange derivatives in Europe proved something of a saga. 
Intended to be traded alongside OTC FX derivatives, CME Europe and Eurex have both launched a suite of pairings, albeit a bit later than planned. 
A new concept in Europe, CME's products are settled through CLS Bank, the global FX settlement provider, however issues over the delivery of physical currencies delayed the launch. 
CME Europe says regulatory change is not the main driver for bringing listed FX instruments to Europe, despite increasing OTC derivatives costs making futures a more appealing alternative. 
With 60% of FX trading taking place in Europe, exchange operators believe that at least some of that volume would be better served by listed rather than OTC products.
"Over the last 10 years we have seen the FX futures and its aligned OTC FX market move closer than they ever have been. We are seeing a cross-pollination of customer bases like we have never seen before," said Will Patrick, executive director of FX products at CME Group. 
CME Europe launched with 30 currency pairs in April, with regional rivals Eurex following suit in July with the introduction of major pairings such as EUR/USD, EUR/GBP and GBP/USD. 
Despite their success and popularity in the US, the contracts had yet to be introduced to the European market, and with buy-side firms largely used to OTC FX trading, CME Europe faced both headwinds along with tailwinds in launching the products. 
As with other products in this feature, FX futures have been launched partially in response to regulatory changes increasing the cost of executing OTC trades. 
The capital efficiencies around trading futures are subsequently pulling European traders towards exchange-traded FX for the first time. "In the last couple of years we have seen the dislocation of regulations around the globe as the regulators come to terms with a new market structure," added Patrick. 
"A sophisticated FX OTC user can use currency futures but might not replace their entire portfolio with futures because they may want to benefit from the natural standardisation of the futures products alongside the flexible OTC contracts. 
"We continue to work with the market to show them the benefits that futures offer; capital efficiencies, depth of liquidity, ease of access and electronic markets. There are always challenges in new markets, and as we see growth on CME Europe we continue to face a natural resistance to change." 
With Eurex and CME Europe both vying for success in the new market, time will tell which of the two, or any other entrants, will host the most liquid platforms.