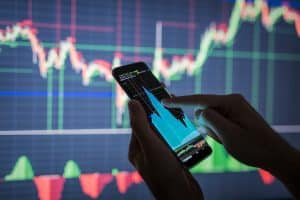 US securities and commodities broker INTL FCStone has developed an app for FX trading to meet demand from its institutional clients for secure and mobile trading services.
The mobile trading app, known as INTL FCStone OCX Trader, allows INTL FCStone's clients to access their INTL system remotely using a mobile phone in order to trade and monitor over-the-counter (OTC) FX positions whenever necessary.
INTL FCStone stated that rolling out the mobile FX trading app to its institutional clients is part of its commitment to provide state-of-the-art electronic market access. The broker added that demand for mobile trading capabilities from its client base has also significantly increased in recent years.
"Responding to the needs of our clients, the INTL FCStone OCX Trader app provides a secure and high-performance destination for mobile trading," Mike Wilkins, head of FX INTL FCStone Europe, commented.
"The app delivers all the essential trading tools in combination with the unique features, excellent service and support our clients have come to expect from the group. Our established partnership with Integral meant we were extremely confident we could extend the Integral platform to meet our customers' mobile trading needs."
INTL FCStone developed the app with the help of FX trading and technology specialist Integral, which provided its technology and platform to the broker to build the tool. Integral acts as a technology partner for banks, brokers and asset managers in the FX market, providing a cloud-based workflow management service and trading platform.
"Integral's cloud-based technology spans the entire FX lifecycle and offers a full-service solution to clients," said Harpal Sandhu, CEO of Integral. "The platform can be customised to meet our clients evolving requirements, including the integration of our mobile app technology so their customers can trade whenever and wherever necessary."