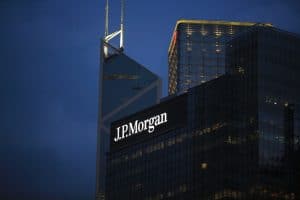 JP Morgan has surpassed $500 billion milestone in prime brokerage balances, as it looks to become the go-to provider for the world's largest hedge funds.
The bank's global prime brokerage balances have increased 25% year-on-year, and have achieved near-record levels across both its cash and synthetics business, according to an internal memo seen by Global Custodian.
"Our book is as diversified as it's ever been. We continue to gain market share with existing clients, onboard new managers, have made a noticeable splash in the start-up space and our future remains bright with a strong pipeline of new business," said Jonathan Cossey and Charles Chiang, co-heads of prime finance, in the memo. "Next stop $1 trillion!"
JP Morgan has invested heavily in its electronic trading services to hedge funds, specifically, its Delta One synthetic business, which provides leveraged exposure to securities or a basket of securities through derivatives.
Troy Rohrbaugh, head of global markets for JP Morgan, explained at the bank's investor Day presentation in February, that the synthetic business accounted for nearly half of its global prime finance revenue in 2018.
He added growth for the prime services business would continue to focus on synthetics and the Asia-Pacific market, where client balances have increased by 36% over four years.
According to a recent article by Business Insider, JP Morgan has recently tapped $200 billion of prime brokerage assets from Deutsche Bank, which include high-profile hedge funds clients D.E. Shaw and Renaissance Technologies.
Global Custodian understands this was not included in the $500 billion milestone. A JP Morgan spokesperson declined to comment.
Deutsche Bank is currently in the process of transitioning its prime brokerage business to BNP Paribas.
JP Morgan's investments have helped it leapfrog Goldman Sachs in industry monitor Coalition's prime brokerage rankings to second by revenues, behind Morgan Stanley.
However, it remains third to Goldman Sachs in terms of the number of hedge fund clients as of July, according to data from Preqin.