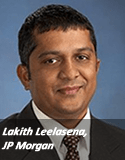 JP Morgan has swooped to hire a Goldman Sachs stalwart to become its new global head of equities technology.
Lakith Leelasena joined JP Morgan at the end of last year as global head of equities technology (GIM) after nearly a quarter of a century with Goldman, most recently as a managing director.
His appointment comes at a crucial time for JP Morgan as the bank rolls out several new systems across the business worldwide.
In an interview with The TRADE, Kristian West, managing director (equities) at JP Morgan Asset Management, said the group is making several appointments as it looks to "start thinking, looking and acting globally".
He said: "Predominantly, it is around systems and technology. Last year, we rolled out the common execution management system, which should conclude by the end of March.
"The roll out of the order management system (Talon) will be completed by the end of this year. We are rolling it out in Asia and, depending on resources, we will start rolling it out in the US later this year."
West said he will be working closely with Leelasena – who is based on New York – on their common goals for the year ahead.
He added that next on the agenda is paying closer attention to analytics and the automation in the trading process.
He explained: "Traditionally, it has been about venue selection and algo selection but the vast majority of alpha capture doesn't come down to this. Traders should be much more informed about behaviour."