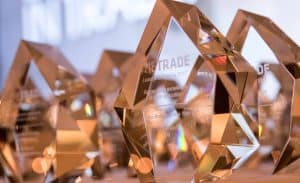 After an extensive selection process, The TRADE is delighted to announce the shortlisted nominees for this year's Editors' Choice Awards 2021.
Following a successful Leaders in Trading: The Digital Experience (LiTDX) in March, The TRADE's flagship awards night is returning to London's Savoy Hotel on 4 November later this year.

During the awards ceremony, the winners of this year's Editors' Choice Awards, alongside our other prestigious awards categories, will be announced.

Editors' Choice categories include Outstanding exchange group, Outstanding equities trading venue, Outstanding dark trading venue, Outstanding fixed income trading venue, Outstanding FX trading venue, Outstanding derivatives exchange group, Outstanding alternative liquidity provider, Outstanding post-trade services provider, Outstanding market data provider, Outstanding trading technology provider, and Broker trading desk of the year.
Visit our event page for more information.
Outstanding exchange group
Cboe Global Markets
Hong Kong Exchanges & Clearing
ICE
London Stock Exchange Group
Outstanding equities trading venue
Aquis Exchange MTF
Cboe Europe

Deutsche Börse Xetra
Turquoise


Outstanding dark trading venue
Liquidnet
POSIT, Virtu Financial
Sigma X, Goldman Sachs
SwissAtMid, SIX


Outstanding fixed income trading venue
Bloomberg MTF
Dealerweb, Tradeweb
Open Trading, MarketAxess
UBS Bond Port


Outstanding FX trading venue
Cboe FX
CME EBS
Euronext FX
LSEG Refinitiv FXall


Outstanding derivatives exchange group
CME Group
Eurex
ICE
Nasdaq


Outstanding alternative liquidity provider
Citadel Securities
Flow Traders
Jane Street
XTX Markets


Outstanding post-trade services provider
CLS
DTCC
Eurex
LCH


Outstanding market data provider
Bloomberg
IHS Markit
Parameta Solutions, TP ICAP
Refinitiv


Outstanding trading technology provider
FlexTrade
ION Markets
OpenFin
TS Imagine


Broker trading desk of the year
Citi

Jefferies
JP Morgan
UBS