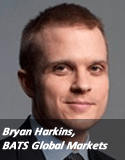 BATS Options has laid down the gauntlet to its competitors as it prepares to launch its second exchange in the crowded US options market.
The exchange operator plans to launch the additional platform – EDGX Options - in November 2015, after more than doubling its market share in US options over the past year.
There are 12 US options exchanges live at present, with EDGX and the International Securities Exchange's Mercury set to take the toll to 14.
"We are sensitive to the fact that there may be industry exhaustion on the amount of exchanges. The answer to that is: let market forces determine the winners and losers," Bryan Harkins, EVP, head of US markets, told theTRADEnews.com. 
"We at BATS believe in our efficiency and our ability to make markets better for market participants and investors alike. Let the best exchanges win."
EDGX Options will be based on a customer priority/pro-rata allocation model, while BATS' existing venue – which has a maker-taker pricing structure - will be renamed BZX Options. 
BATS has seen unprecedented growth in the space over the past year, recording a market share of 10.1% in March, more than doubling from a year ago when it had 4.1%.
The group is still behind ISE, Nasdaq PHLX and CBOE in terms of market share, however Harkins believes the relatively new player can leverage its technology and pricing to continue its growth.
"US options has been a business that BATS has been in for the past few years, but in this last year we have decided to disrupt on price," he added. 
"Those economies of scale and our cost structure affords us the ability to bring intense price leadership to the industry. If you bring great technology, superior customer service and price leadership then you can win the business. 
"Just because there are 12 or 14 exchanges now doesn't mean there has to be that many long term." 
He also added that BATS could offer efficiencies through its underlying equities business. 
"We can explicitly tie cross-asset pricing, where we say 'if you do this much options business with us and this much equities business, we can offer you a bundled rate'. This brings efficiency and scale to the industry. 
As we look forward to EDGE-X Options you are going to see a lot of that play out as well."