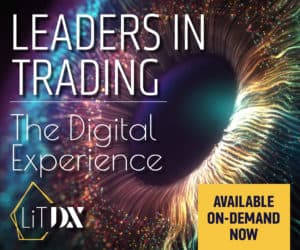 Financial operating system specialist, OpenFin, has won the Leaders in Trading: The Digital Experience (LiTDX) FinTech of the Year 2020 Award, in partnership with Instinet.
In the first ever FinTech of the Year award to be decided by an industry vote, OpenFin has been declared the winner after more than 300 votes were cast from market participants.
OpenFin's financial markets operating system aims to resolve operational challenges with system connectivity and has proved itself essential during the remote working conditions brought on by the pandemic.  
In a special digital production for LiTDX, CEO of OpenFin Europe, Adam Toms, told The TRADE that the company has always had the ability to save and restore different layouts to manage increasingly competitive desktop space.
"We also had other features that perhaps people were necessarily as aware of, things like consolidating different views into one single component which proved incredibly important," Toms added.  "The other element is of course application interoperability, it became more powerful to have apps linked together." 
OpenFin is backed by major institutions including JP Morgan, Barclays Standard Chartered, Wells Fargo and HSBC. The firm was nominated in the FinTech award category alongside big xyt, Cloud9 Technologies and Vela Trading.
FinTech has played an essential role in preventing the markets from collapsing during heightened volatility and amid new working conditions, Toms added. 
"There are endless stories of FinTech who rapidly signed new contracts with clients in 2020, I think that was a sign of people really adjusting to pandemic searching for those solutions," he said.
"The underlying themes, are strong movement around people trying to update their technology stacks, moving into web technologies, employers thinking about their employees and giving them the best possible experience, all of these accelerated dramatically during the pandemic and FinTechs were providers of a lot of solutions around that."