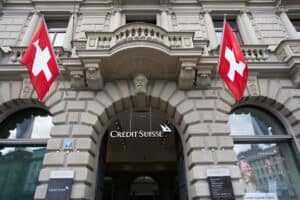 On Sunday night the Swiss regulatory authorities wrote down over $17 billion-worth of Credit Suisse AT1 bonds as a means of pushing through the merger – but one security slipped through the net and has since seen a jump in value of almost 50%.  
Contingent convertible (CoCo) bonds, also known as Additional Tier 1 (AT1) securities, are high yield, high risk perpetual products essentially created to support banks after the 2008 crisis: shifting risk away from the taxpayer and onto bondholders. The documentation has always contained a clause that states the bonds could be written down in extraordinary circumstances – although it appears that few investors actually expected this to ever happen.  
But happen it did, and the impact has sent shockwaves throughout the bond markets. Of Credit Suisse's outstanding CoCo securities, 16 were listed as still trading yesterday, but at a fraction of their former value. Fourteen of the 16 bonds had declined in value by an average of 84% as of 5pm Monday 20 March compared to 5pm Friday 17 March, according to Tradeweb data.  
Unusually, however, two Credit Suisse CoCo listings bucked the trend – jumping by 45.63% and 47.60%, respectively. So how did they escape the cull? 
It turns out that one $2.5 billion CoCo security (in two versions: the REG S and the 144A) was exempt from the write-down, due to some unique features that place it in the Tier 2 category, rather than Tier 1 – despite being categorised as an AT1 bond under Basel III.  
Issued in 2013, the 10-year junior bond has a 6.5% coupon and is due to mature on 8 April 2023. The notes constitute direct, subordinated and unsecured obligations on the part of Credit Suisse – and, interestingly, the documentation contains the same write-down clause as the other AT1 securities:  
"If a write-down event occurs, a write-down shall occur on the relevant write-down date. In such circumstances, interest on the notes shall cease to accrue, the full principal amount of each note will automatically and permanently be written-down to zero, holders will lose their entire investment in the notes." 
However, crucially, the terms and conditions contain a subordination clause specifically stating that in the event of a winding-up, the bondholders would rank below senior credit holders, but senior to the claims of all holders of junior capital (which includes all Tier 1 credit, and all capital in relation to shares/equity) – meaning that it looks like it will be the lone AT1 instrument to retain its value in the midst of the chaos.  
"Many investors have discovered that their Credit Suisse AT1s were subordinated to equities, and now worthless. This is unprecedented and discredits subordinated debt in banks and the asset class in general," commented Eric Vanraes, portfolio manager of the Strategic Bond Opportunities Fund at Eric Sturdza Investments.  

The contagion has already spread across the AT1 space: with almost all other European AT1 securities falling over the weekend. Swiss entities or those with exposure were unsurprisingly the biggest losers, given the uncertainty now rife around the Swiss regulator's approach to the hierarchy of bank funding. Deutsche Bank and UBS saw their CoCos lose around 12-14%, while Austrian banking group Raffeisen lost around 12% from its AT1 securities and Swiss entity Julius Bar around 11%. Credit Agricole, Standard Chartered, Danske Bank and Swedbank were also burned, as was the UK's Virgin Money, among others.

"In the short-term, the AT1 market will suffer," confirmed Vanraes. "In the medium-term, it will undoubtedly offer opportunities to those specialists who can analyse this type of instrument and read a prospectus' fine print."