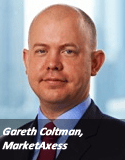 On Monday, BlackRock and MarketAxess extended their Open Trading partnership to the European credit markets.
The project allows BlackRock and the investors using its Aladdin platform to join up with more than 1,000 investor and dealer firms on MarketAxess's network, effectively increasing the number of available trading connections.
The programme, which has been running for around a year in the US, is one of a series of bond trading partnerships that have developed post credit crisis.
These projects are the result of banks becoming increasingly reluctant to be market makers as regulatory changes have forced them to put aside more cash for acting as the middle man in trades by temporarily 'warehousing' assets.
BlackRock and MarketAxess started working together in 2013 in the US to get more participants involved in open trading.
Gareth Coltman, European Product Manager at MarketAxess, told The TRADE that he hoped the European initiative would do the same.
He explained: "One of their (BlackRock's) key objectives is to broaden investor access to liquidity. European investors are frustrated with the lack of liquidity.  It is all down to dealers finding it difficult to warehouse inventory."
Coltman believes that while the platform will assist investors, it will also help dealers who are looking to be more efficient with where they use their own balance sheet.
He explained: "There is a lot of interest from dealers.  They are struggling more to manage their own inventory. The more tools they have to broaden their network, the better. For all the participants, there is value.
"Our hope in Europe is that we see the emergence of more dealers in competition in this market place, similar to the US."
Recent months have triggered growing concerns about fixed income liquidity from asset managers across the board at a time when investors are craving higher yields.
In November, the Bank for International Settlements published a research report on market making and proprietary trading.
The survey concluded that solvency requirements under Basel 2.5 and Basel III would lead to a continued reduction in banks' inventories for traded credit instruments and decline in inventories for assets with high risk weights and limited hedging options.
In a statement outlining details of the collaboration in Europe, Richie Prager, global head of trading and liquidity strategies at BlackRock, said: "The fixed income investment landscape has evolved more quickly than the market's underlying structure for transacting, challenging buyers' and sellers' abilities to connect and transact".
Prager said it was therefore important for investors to "explore new avenues of liquidity."