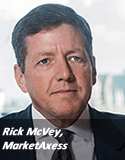 MarketAxess' first quarter results revealed its revenues had increased 15.4% to $88.6 million, a record for the company.
Net income for the first quarter this year totalled $29 million, up from $24.6 million in the same period last year.
The company's total trading volume saw a healthy 27.2% increase, reaching $310 billion in Q1 this year, compared to $243.7 billion in the same period last year.
Rick McVey, chief executive officer at MarketAxess, said the strong performance was down to a combination of "strong market share growth" and "healthier US market volumes".
He added: "We continue to invest in new Open Trading protocols, expanding our capabilities outside of the United States and extending our trading platform to new product areas."