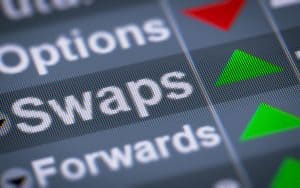 European electronic fixed income platform MTS (part of Euronext Group) and fintech Wematch are set to launch MTS Swaps by Wematch.live – a web-based interdealer trading venue for the interest rate swaps (IRS) market.
MTS Swaps, which is accessible through a web browser via Wematch.live, digitises voice trading workflows while also bridging the gap between legacy voice trading models and pure electronic alternatives through an offering of negotiating functionalities.
MTS Swaps will offer dealers increased efficiency and productivity through automation, reduced conduct risk through transparent electronic audit trails and the removal of chat from workflows, as well as improved trade protection through pre-trade price and size controls and auto-protect features. 
IRS trading costs will also be reduced by the solution through a simple and transparent fee schedule and a choice of 'all-you-can-eat' or 'pay-per-trade' fees.
"There has been a major structural shift toward electronic trading in the interest rate swaps market since the introduction of new regulation in the wake of recent macroeconomic uncertainty," said Angelo Proni, chief executive of MTS, Euronext Group.
"MTS Swaps combines MTS's network, regulated markets, connectivity, and rates franchise with Wematch's flexible, agile technology to deliver an innovative solution that puts the trader front and centre." 
The new solution will benefit from MTS's network across Europe, which trades an average daily volume of over €160 billion, and Wematch's platform that bolsters the digitisation of dealing workflows.
MTS's regulated markets and MTFs connect to relevant post-trade systems including central clearing houses.
"Wematch is on a mission to empower financial institutions through digitisation. Our cross-asset platform is designed to serve dealers with ease and efficiency," said Joesph Seroussi, chief executive and founder at Wematch.
"We remain committed to delivering robust and scalable alternatives to voice trading, and are thrilled to announce the launch of MTS Swaps by Wematch.live in partnership with MTS." 

Anna Lucarelli, European head of corporate and public sector rates sales ex DACH at Deutsche Bank, added: "We see clear value in this new proposition from MTS and Wematch, with the opportunity to accelerate dealing workflows and help firms to increase productivity and reduce costs."