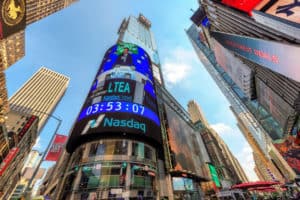 US exchange operator Nasdaq has received approval from the Securities and Exchange Commission (SEC) to launch options on its Nasdaq-100 Volatility Index (VOLQ).
Following the approval from the SEC for the options on 5 May, Nasdaq said it plans to launch later this year.
The VOLQ was first introduced by Nasdaq in 2019 and measures the 30-day implied volatility of the Nasdaq-100 Index (NDX) to help traders better understand and manage volatility. 
It reflects prices of NDX options for accurate, at-the-money options prices, and is mostly used by options market participants.
The launch of the VOLQ options comes as part of Nasdaq's partnership with US derivatives exchange CME Group, which confirmed in August last year that it had made plans with Nasdaq to launch futures based on the volatility index on 5 October, subject to a regulatory review. 
"VOLQ futures respond directly to growing demand for tools to hedge portfolio volatility exposure or trade at-the-money volatility on a leading global benchmark equity index, the Nasdaq-100," said CME Group's global head of equity index and alternative investment products, Tim McCourt. 
"Additionally, they will complement our deeply liquid Nasdaq futures and options product line, including the benchmark E-mini and Micro E-mini Nasdaq-100 contracts."
Shortly after confirming plans to launch the VOLQ futures, CME Group unveiled a new FX options volatility tool in September that aims to further assist traders with their monitoring of price relationships for better execution quality during volatile periods.