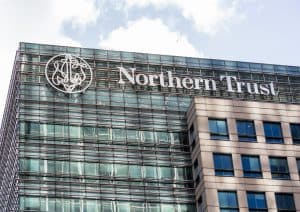 Northern Trust has created two new global leadership roles for its institutional brokerage business, as it aims to drive business for its newly-launched outsourced trading service.
The bank has named Guy Gibson as global head of institutional brokerage, and Anna Ranaldi as global chief operating officer for the business.
Based in Chicago, both will report to Michael Vardas, global head of Northern Trust Capital Markets.
"These newly created positions mark an important step in the evolution of Northern Trust's institutional brokerage business," said Vardas.
"Guy and Anna's leadership and extensive experience will be invaluable as we continue to grow our global capabilities in response to significant client demand."
Gibson previously led Northern Trust's institutional brokerage unit for Europe, Middle East and Africa (EMEA) and Asia-Pacific. He also co-founded Aviate Global, an institutional equity broker, which was acquired by Northern Trust in 2016.
Ranaldi is a 30-year veteran of Northern Trust and has held a number of leadership positions in asset servicing and asset management, before moving to its markets business in 2009.
Alongside her new role, Ranaldi will retain her responsibilities as president of Northern Trust Securities, its US broker-dealer business.
Northern Trust recently launched its Integrated Trading Solutions service, a front-to-back outsourced trading service which combines its equities and fixed income trading capabilities with its access to global markets, trading venues and liquidity.
The custodian bank stated at the time of the launch the new service will help asset managers meet their best execution obligations, set out by MiFID II.
"This is an exciting time for our brokerage business with our recently launched Integrated Trading Solutions now supporting multiple clients across the globe, from sophisticated asset owners to boutique funds, to hedge funds, through to large global asset managers," added Vargas.
"The cost and operating model efficiencies achieved through this outsourced trading capability are recognised by our clients and we expect this solution to continue to grow strongly in 2019 and beyond."