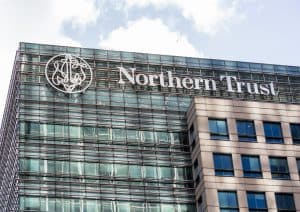 Northern Trust has launched an outsourcing trading service for asset owners and asset managers, making it the first custodian to take on buy-side trading functions.
The service, named Integrated Trading Solutions, combines Northern Trust's equities and fixed income trading capabilities with its access to global markets, trading venues and liquidity.
The move marks the latest effort by custodians to expand into the front-office; however, Northern Trust is the first to take on certain trading activities for asset managers.
Speaking to The TRADE's sister publication Global Custodian, Penny Biggs, chief strategy officer for Northern Trust, explained that the launch of the service is off the back of client demands to help them increase efficiency from the front- to the back-office.
"From the moment the manager knows what they want to buy, our new model takes them from execution, to clearing, to settlement, all of their middle-office activity, as well as their regulatory and oversight functions," said Biggs. "It is the traditional outsourcing model on steroids because it brings in trading and execution.
"The pressure on asset managers to get the most efficient model is enormous, and our clients are opting for this total outsourcing model because of the value it brings."
Northern Trust stated the new service will help clients meet their best execution obligations, set out by MiFID II.
The front-office has been a key strategy focus for Northern Trust this year, which has been reflected in some of its recent appointments. In September, it promoted Dan Houlihan to a newly created role as head of asset servicing for the Americas, to oversee the development of a full front-to-back-office offering to buy-side clients.
Northern Trust will look to integrate its front-office and middle-office capabilities through the launch of a new technology and operating model that is designed together as one, Biggs explained.
"This architecture matrix is a whole new operating model enabling us to connect to all systems we may need to plug in and provides us with a data fabric that sits in the middle, taking us to a new level of efficiency," Biggs added. "You need the best possible core in order deliver faster and achieve scale, connecting to every underlying system in order to provide optionality for the client."
The launch of an outsourced trading model could replicate services offered by certain prime brokers such as Cowen Group and Linear Investment which enable hedge funds to outsource their trading desk to achieve operational efficiency.
Earlier this year, State Street agreed to acquire front-office technology provider Charles River Development (CRD) for $2.6 billion, enabling the Boston-based custodian to expand into new front-office data services.